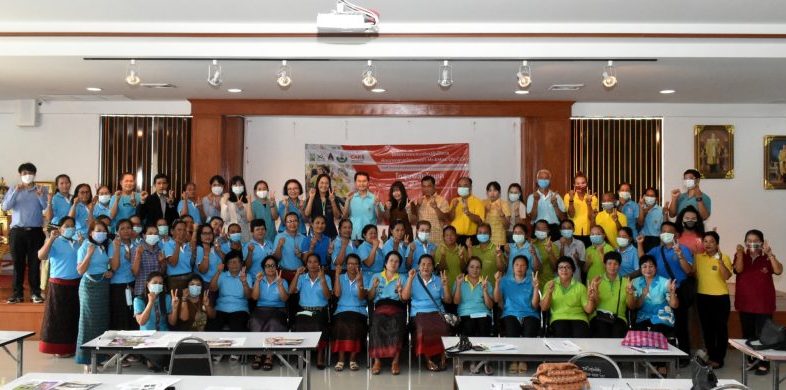 August 28, 2020 at Khampa Room, Kosumpisai Hospital, Maha Sarakham – Cholangiocarcinoma Research Institute, Khon Kaen University led by Assoc. Prof. Dr. Wacharin Loilom, a committee member and secretary of the institute and the working team ran a workshop on "Workshop for the leading volunteers, Mr. & Mrs. OV-CCA under the Prototype District to Solve Problems in Liver Fluke Disease and Cholangiocarcinoma – Kosumpisai Model". The chairperson of the Kosumpisai District Quality of Life Development Committee presided over the opening ceremony. 89 participants joined, who are from women groups in Phaeng Sub-district, village volunteers of Hua Khwang, Kaengkae, and Nonglek Sub-districts and hospitals in Kosumpisai Districts.
Mr. Piya Pijanam, Kosumpisai District Officer said, "Now, the government is attempting to solve the problem of liver fluke disease and cholangiocarcinoma. Ministry of Public Health announced this as the strategic plan to eradicate liver flukes and cholangiocarcinoma from Thailand in 2016-2025. The work cannot be done by the government alone. Cooperation is required from allies and network in order to integrate the solution of the problem until it is successful. This cannot also be done at hospitals or by the health professionals alone either. All dimensions related must be integrated. The solution must be done from upstream towards downstream. That is, eradicating liver flukes, reducing the spread in the water sources, doing away with the reservoir animals, and managing safe foods as well as teaching young people so that they understand this. The information should be systematically managed until it can be traced. Screening and treatment should be done from the first start so as to increase chances for people to receive medical treatment and at the same time, the quality of life of the patients should be increased and the socio-economic loss reduced.
The activities featured a talk on "How infection with liver fluke causes cholangiocarcinoma?" by Assoc. Prof. Dr. Wacharin Loilom, a committee member and secretary of the institute. Asst. Prof. Dr. Sirinthip Bunjaraspinyo, a lecturer of Department of Community Medicine gave a talk on "Safe Foods, Liver-Fluke Free Fish." Dr. Chanika Worasit lectured on, "The Life Cycle of Liver Flukes and Innovation in Screening the Disease from Urine Inspection." Then there was a forum on, "Ways to Implement Work in the Area" led by Mr. Kantaphat Khamplew, a public health officer of Kosumpisai Hospital and Mr. Paisunanlada Prawante, Chairperson of Village Public Health Volunteers of Huakhwang Sub-district, who is Mr. & Miss OV-CCA of Kosumpisai Model. At the workshop, Cholangiocarcinoma Research Institute also exhibited the Thai Challenging Project: Thailand Free of Liver Fluke for the trainees.