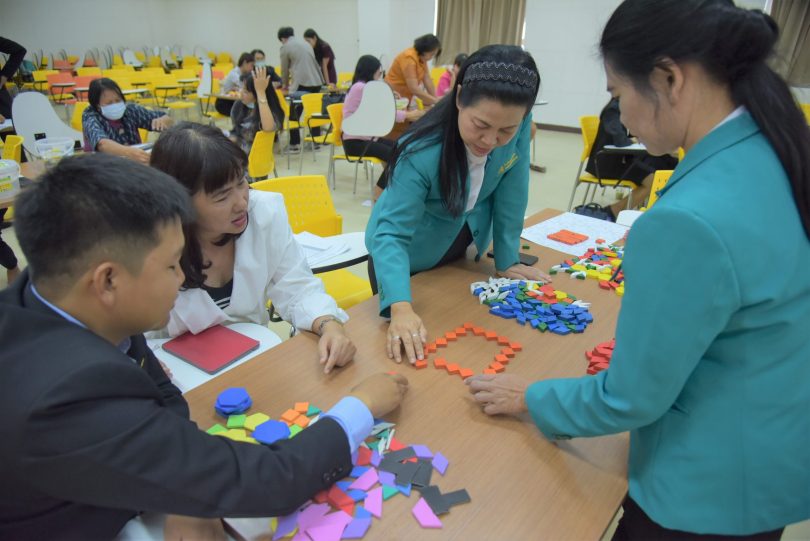 November 24-25, 2020 at Pote Sarasin Building, Khon Kaen University – The Institute for Research and Development in Teaching Profession for ASEAN organized a workshop for teachers and educators, Groups 1 and 2 under the Teacher and School Development Project for continuously upgrading education quality. The workshop received monetary support from the Education Equity Fund.
On Tuesday 24, 2020 at 9:00 a.m., the opening ceremony was scheduled with Assoc. Prof. Maitree Inprasitha, Ph.D., Vice President for Education and Academic Service presiding over the event and welcomed the participants while Assoc. Prof. Jumpon Rachawijit, the Institute's Advisor for Training and Academic Service gave a report speech on the past implementation of research and innovation development.
Assoc. Prof. Dr. Maitree Inprasitha explained, "This workshop for continuously upgrading education quality is an important activity of the IRDTP. It reflects that Khon Kaen University truly sees the importance of quality education and promotes integration of work from all sectors for sustainable development under SCGs mission."
At 9:30 a.m., there was a special talk by Assoc. Prof. Dr. Maitree Inprasitha followed by an introduction to the 5 stations of learning activities by Asst. Prof. Dr. Narumon Changsri, Director of Mathematics Study Research Center and Deputy Director for Research and Innovation Development of IRDTP. In the afternoon sessions, the participants did the activities at the 5 stations. This continued until November 25. The participants were divided into 5 groups that took turn doing activities at the five stations, namely: 1) Workshop on pattern blocks, 2) Planning for the work of the second semester of 2020 at each school, 3) Producing pattern blocks for teachers (supplementary media), 4) Use of blackboard, and 5) Producing an integrated plan on the topic of 'weight'. The activity at each station lasted 1.30 hours for each group in order to enable them to fully understand the Lesson Study and the Open Approach, which are the key innovations of IRDTP.
The workshop was honored to have Dr. Kamonwan Tippayanet, Deputy Director of Office of Primary Education Service Area 1, Khon Kaen; IRDTP administrators and experts; education supervisors; lecturers from the Faculty of Education joining. Over 330 participants included school directors, administrators and teachers from 22 schools in Group 1 and 30 schools in Group 2.
News: Peeranat Iamthong
Photos: Krarat, Manhathaw